Ghostshow: The Haunted House

Ghost Show: The Haunted House is a one-week art exhibition using the classic 'haunted house experience' to think about new ways of exhibiting art, supported by Arts Council England and curated by Kavitha Balasingham and Rory Beard.

In Light Of Recent Events,

An old silvered mirror is set on two wool blankets and rests against the wall. Between the blanjet is a sea of hardened hibiscous candy. Underlined writing in red across the mirror reads "In Light Of Recent Events". A sonorous sountrack can be hear from behind the mirror.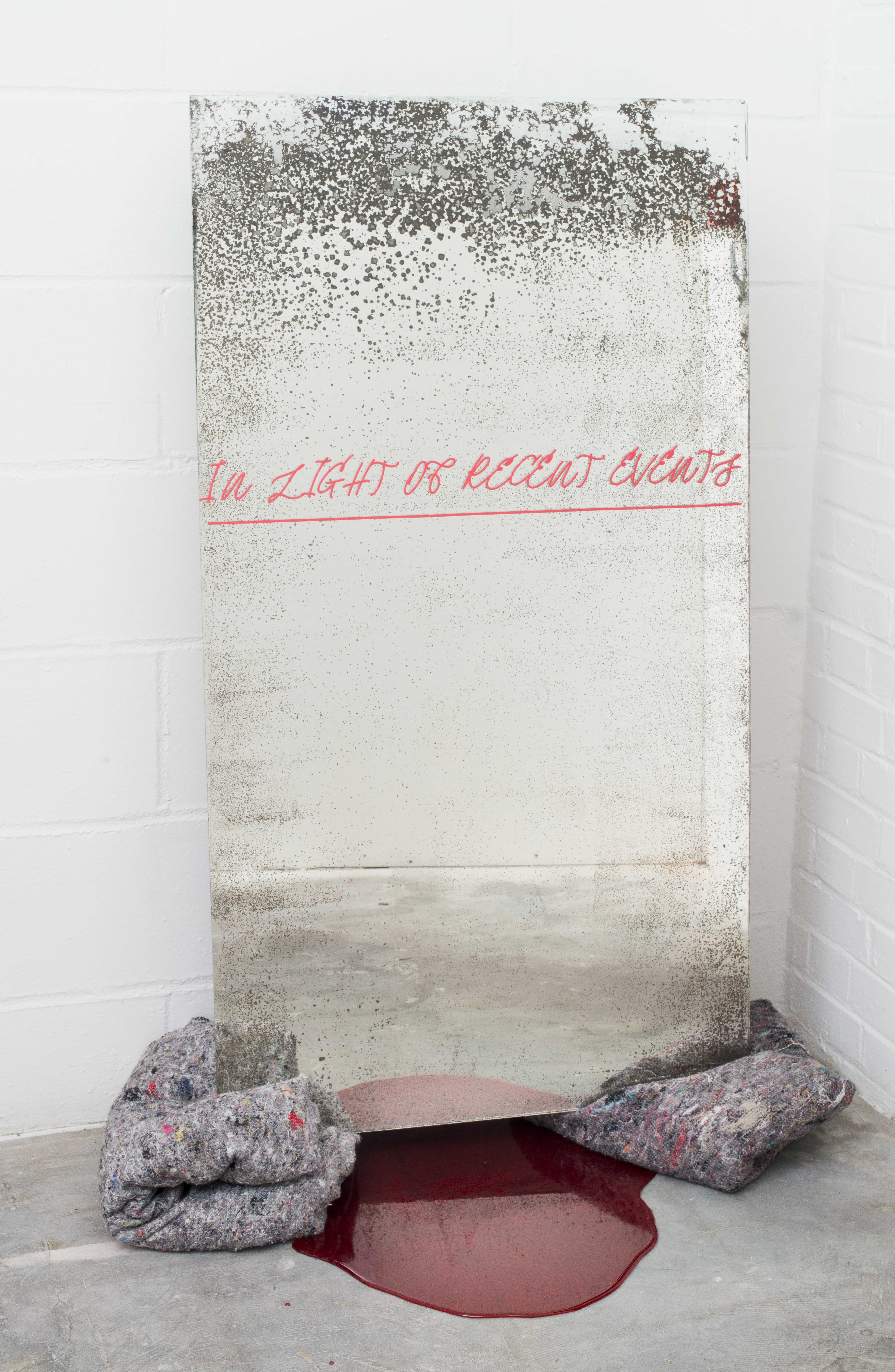 Residing within a bespoke theatrical horror setting in Copeland Park, working with 70 emerging artists to devise an inclusive, approachable programme for a wider audience beyond the gallery circuit. Exploring the fun side of contemporary arts, we will create an immersive, free halloween inspired environment to see if art can engage more immediately. The main focus of the exhibition is to think about how we can explore contemporary art in a more accessible, playful, and appealing way. The show looks beyond Halloween and Horror as a genre and uses it as a tool to explore the boundaries of the white cube space and contemporary art by not conforming and making it more accessible to the community of South London that we as the curators and artists feel part of.

Ghost Show: The Haunted House seeks to subvert the gallery space and invites a fresh perspective to viewing art through a spoof art show vs spoof haunted house. The tension between these 2 tropes comment in a playful and humorous way on both the art sphere and the eeriness of Halloween. By doing so, we hope that it appeals to the imagination of the young and local community, encouraging them to enter and contribute to art spaces more regularly.
The aim is to encourage people to engage with art, think more creatively about the world and be more accepting of diversity. We will run 5 artist-led community workshops to allow communities (SENS, primary schools and locals) to contribute to the Haunted House, including: drawing, collage, performance, sound, storytelling and ghost tours.



images by Gillies Adamson Semple